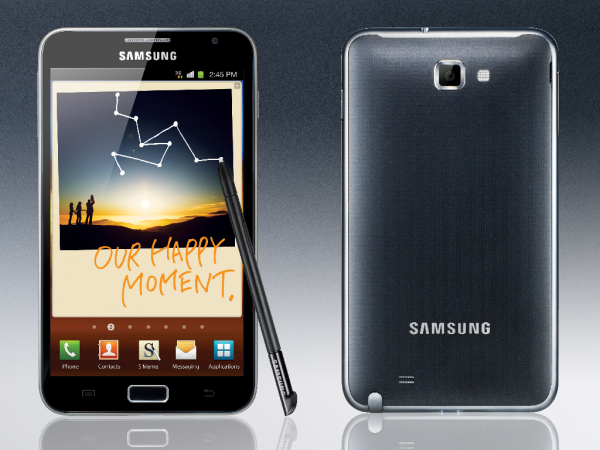 Today at IFA, Samsung announced the Galaxy Note, a new phone with a ridiculously large 5.3 inch screen and a stylus.
You may have seen my speculation the other day that the Galaxy Note might have actually been something exciting, like a sliding smartbook, but it seems I may be the only person who realizes that bigger isn't better when it comes to Android smartphone screens.
We'll get to being critical about the device in just a moment, have no doubt. For the time being though, let's get some specs out there:
Android 2.3
1.4GHz dual-core CPU
5.3 inch Super AMOLED display @ 1280×800
Front and rear cameras @ 2MP and 8MP respectively
HSPA+ connectivity
1080p recording and playback
GPS, Bluetooth 3.0, and WiFi a/b/g/n
16/32GB built-in memory and a MicroSD slot for storage expansion
2500 mAh batter
The stylus is active which should make for smooth and natural feeling digital writing.
It seems like Samsung designed this device to straddle the line between tablet and phone, but I find that to be a flawed concept from the start, tantamount to UMPCs that came in at a thumb-board-sized keyboards but with keys designed for touch-typing!
To me, the 5.3 inch size of the Galaxy Note's screen means that the device is too big to be an ergonomically designed phone, but smaller than someone would want for a tablet.
As for handwriting input, the Galaxy Note isn't going to be a useful device if it tries to pull an HTC Flyer and launch a product that has the technology to write on the screen, but no proven usage scenarios.
Don't get me wrong, in my day-to-day activities, I use an HP Tablet PC and I love the touchscreen for digital inking. The difference is that, in Windows, the digital inking experience is built-in at an OS level (and even then it is still criticized). The Galaxy Note, on the other hand, comes with an OS (Android 2.3) which has no core support for digital inking input – everything having to do with handwriting at this point is either proprietary or third-party. I mean, come on! Look at the press shot at the top of this post. Is this really how Samsung things people would use something like this… to draw constellations on a picture on their homescreen and annotate it with some stupid text? There are far more useful ways to use written input, but it looks like no one has figured them out yet on Android.
Naturally, Samsung says that they'll be including some apps specific for pen use, but it's yet to be seen if they include any truly useful functionality, or just silly proof-of-concept apps like the ability to annotate screenshots. I'll be happily wrong if Samsung built some really useful functionality out of the digital inking ability of the Galaxy Note, but I don't see it happening.
The only points the Galaxy Note will see from me is that the device actually has a built-in stylus silo, so you won't have to carry it around separately in your pocket. Oh and the Super AMOLED display is likely to look really good!
That's my take anyway. What do you think, would the Galaxy Note be useful in your life?
Pricing and carrier availability have yet to be announced, but we'll update as we hear more.
Update: Hands-on video!