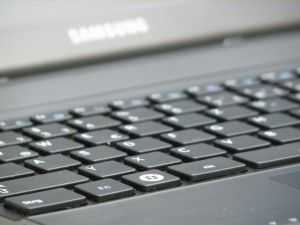 It's time to say good bye to the Samsung N350 that I've been using for the last 2 weeks and to round-up my thoughts. Rarely does a device slot straight into my workflow as easily as the N350 did. I was able to switch from my XP-based Gigabyte Touchnote (with SSD and 2GB upgrade) to the N350 with no issues whatsoever. Even Windows 7 Starter Edition was flexible enough that it didn't limit me in my normal work. Picking up the Touchnote today reminded me how heavy it is and as the N350 is my first 'transparent' Windows 7-on-a-netbook experience, I don't want to go back to XP either.
For me, it's the dual-core that finally makes Windows 7 transparent. Finally I can use Windows 7 on a netbook without having to optimise and without noticing hangs and delays as disks and CPUs race to keep up with the behind-scenes activities. As a bonus, the dual-core also boosts Web-based work nicely too. No, unfortunately, dual-core doesn't mean its twice as fast but it's noticeably faster and bringing no noticeable penalties in battery life. In fact, I would argue that you can get a lot more done on the dual-core in the same battery life. Why would you choose a single core Atom netbook now?
Build , keyboard, mouse, screen and disk seem to be high-quality and the weight really helps. The only problem here is that the weight is kept to 1KG by going back to the original 3-cell setup of early netbooks. Add the 6-cell option (a shocking 139 Euro) and you're up to 1.2KG just like every other netbook out there. Battery life becomes the main concern and if you want more than 4hrs of worry-free working without plugging in, the N350 is probably not for you.
Having said that, the N350 is an efficient build with a good quality 3-cell battery (33Wh) and in my usage last week, a mix of web, writing and email at a 3-day conference, 5 days in a hotel, I was regulalry reaching 5 hours. I kept the screen fairly low, worked a lot in power saving mode and got myself into the habit of closing the lid when waling away from the device. This kicks-in the 'fast start' mode.
Fast-start is some form of hybrid standby and hibernate mode. You get minimal battery drain (I measured 16% drain in 48 hours) but a 5-second boot. You're connected to the internet in well under 10 seconds from lifting the lid and imporantly, it works reliably. I haven't seen any hiccups and although this isn't the 'always on' I'd like to see on Intel platforms soon, it's something else i'll miss when I go back to my personal netbook.
Video playback from disk gets a good boost with the dual-core CPU. Probably one of the biggest measurable improvements in all. A 4Mbps Divx played out of the box on Windows Media Player without  the CPU at about  20%. H.264 should play up to about 5Mbps and WMV at 720p resolution and 7.5Mbps is no problem at all. While not quite 1080p capable, it's a smooth and acceptable video experience. Expect about 3.5 hours from the battery in this mode. Unfortunately, YouTube at 720p is still not reliable enough to be said to be working. You'll see a couple of examples in the video below. One works, the other, a dynamic video, doesn't.
More detailed 'first impression' notes are in the article: Samsung N350 First Impressions (Post Live Review. ) These notes were based ona 3hr live testing session. Unfortunately, the videos from that session failed due to technical problems.
In the video below you'll hear me talk about two other interesting netbooks that fall into the same price bracket as the N350. The first is the single-core Samsung N230. It uses the same design and includes the fast-start feature but here's the reason you might actually opt for a single-core over the dual-core – the N230 includes a 6-cell battery (check capacity – there are different qualities of 6-cell pack out there) which is likely to take it all the way up to 10 hours. The choice is a simple one between performance and battery life. Alternatively, there's the new Asus EeePC 1015PN which is 1.2KG, has a 6-cell battery and the dual-core CPU. It also has the Nvidia ION2 graphics inside which means you get full HD performance, better gaming capability, some video editing capability and an HDMI out. If you don't need the ION2, you can turn it off! For the same price as the N350 it's a tough choice.
While the N350 is a premium netbook and a great starting point for a good performing, lightweight device, if you don't want this 'fast-start' option and you need more battery life, you might want to be taking a closer look at the 1015PN. If that fast-start and 1KG starting point interests you though, the N350 is an excelent choice. Look out for offers and 6-cell variants. If you can find the high quality 6-cell variant (64Wh capacity) on offer for under 400 Euros, buy it!
Also expected – 3G version. There's a SIM slot and 3G model space on the motherboard.
More information, specifications, links and videos in our Samsung N350 information page.