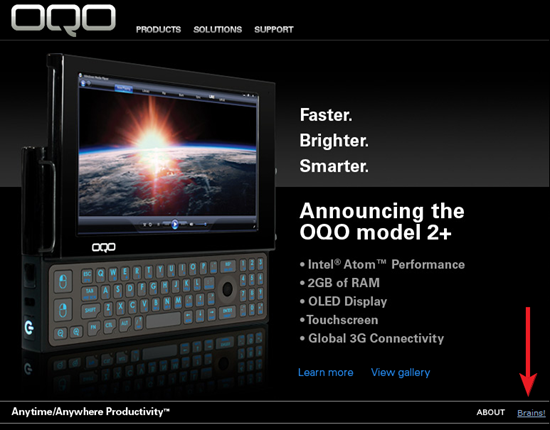 This story is getting more interesting by the minute. We told you yesterday that Oqo.cc appears to be set to launch a Model 03 OQO ultra mobile PC in Q3 2010 (more specifically, August, according to the site). Now it looks like the official US OQO site (which hasn't seen any updates since the company went out of business in April, 2009) has been tampered with.
According to a comment on the story on Engadget, the site was briefly updated with text at the bottom stating "We did not sell out to Audiotone. Anything by them is a Clone. inch This text has since been removed, however a peculiar link on the site remains (which certainly wasn't there yesterday before our story). At the bottom right of each page on the site, a single word, "Brains! inch links to: http://www.brains4zombies.com/ which appears to be a parody page of Amazon, and is somehow connected to the web comic hosted at http://www.goats.com/.
A very odd hack if you ask me. I'm unsure of exactly what to make of this, but if you know something more about these sites than we do, definitely let us know in the comments.