The Notion Ink Adam [tracking page] may have wow-ed most at the CES 2011 but the proof is always in the pudding once the tablet is truly unleashed for general consumption in the consumer market.
It took a little while, but Engadget's Sean Hollister managed to get his hands on a unit and wrote a good review on the Adam. From the review feedback, the Adam may not have lived up to expectations as being a perfect technology marriage of form and functionality.
Let's explore the Adam, shall we?
The Adam has a unique form factor which differentiates it from most uniformly slim-line tablets – it has a rather rounded bulky rear (pictured below).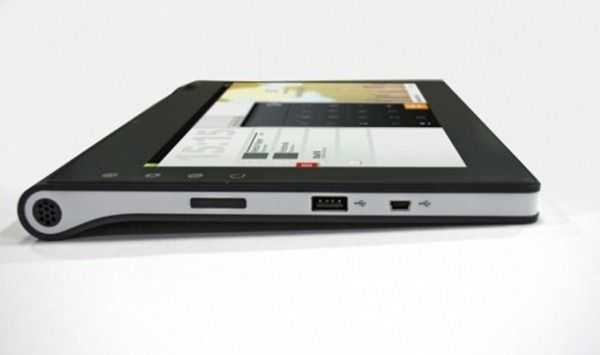 Some may find this rather unsightly but from an ergonomic's perspective, I think this is a good design as it may allow a good one handed grip when using the Adam in a portrait mode. This is especially important as the Adam weighs in at rather hefty 1.6 pounds and therefore having a good grip whilst single-handedly using it is a must.  Sean mentions the cylindrical rear holding a pair of stereo speakers as well as three-cell battery which makes me wonder if the unit may be possibly top heavy (or bottom depending on which direction you hold it!) when held in a landscape position.
The reviewer wasn't impressed with the four capacitive touch buttons (pictured above) which are neither backlit or possess haptic feedback.
One thing the Adam has going for it is the plethora of ports, from two full-sized USB ports as well as a HDMI slot that is capable of 1080p display mirroring.  I feel that this is a key feature that distinguishes the Adam as a tablet meant as a serious productivity workhorse or mobile home-theater from a tablet meant soley as a sofa surfing device. I cannot tell you how many times I have been frustrated when someone at work hands me a USB thumb drive and I am unable to transfer files via USB to my Dell Streak 5 inch nor my Samsung Galaxy Tab 7 inch!
Another feature which had us all eagerly anticipating the arrival of the Adam is the famed Pixel Qi display.  Unfortunately, the reviewer found that the Adam's 1024×600 resolution Pixel Qi display was not good, describing the display's viewing angles as "terrible inch with the colors being "a bit washed out inch. A saving grace is that the reviewer found the Adam's Pixel Qi's reflective mode working well and once the screen backlit is switched off, the screen is viewable even outdoors and conserved hours of battery life.
The reviewer also found the 3.2MP camera's picture taking capabilities to be unimpressive, describing issues with the autofocus as well as over exposed pictures. Note that the camera is able to swivel front to rear, vice versa.
Under the hood, the Adam sports a dual-core 1Ghz Tegra 250 and the reviewer has found no issues with general performance of the device.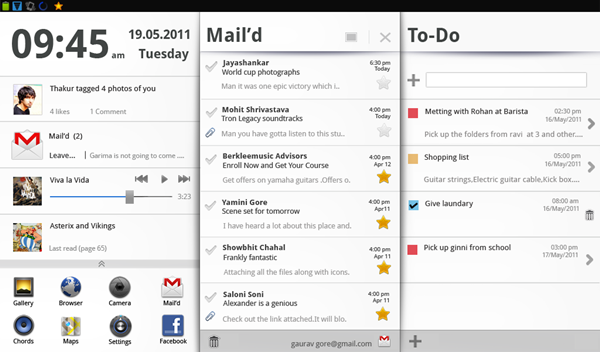 From an operating system perspective, the Adam runs Android 2.2 aka "Froyo inch but Notion Ink designed its own user interface known as the Eden UI that provides an innovative-looking PanelView (pictured above) that allows the multiple applications to be open and active on the same homescreen.
Though the hardware issues can't be fixed through a software update, Notion Ink will be releasing a significant update to the Adam's software. The update will contain the following:
a new e-book client
a new Browser (the name of the book client and browser will be released in a separate blog next week)
updated Kernel
optimally over-clocked Tegra
Gingerbread 2.3
lots of usability Issues resolved
new multi-tasking environment (easier way to manage all tabs and applications)
Chords Music Library and Player (Simple and straight Music Player)
Video Library and Player
DSP support, so now equalizer will work in better way. Soon we are adding more bass boost in the speakers as well (not a part of this update).
Flash pre-installed
and more
Readers may wonder why the update to Android Gingerbread 2.3 instead of Honeycomb 3.0, the reason being that Google only releases the Honeycomb source code to a selected few partners at this point and Notion Ink isn't one of them.
The release date of the update is still unannounced at this stage.
Notion has certainly challenged the tablet manufacturer's norm by designing a tablet that has the capability of replacing a desktop thanks to USB peripheral support. I certainly hope that it is able to rectify the hardware quality issues and deliver the software update in a timely manner.
Here's Notion Ink Adam Picture Gallery thanks to Engadget!