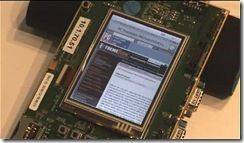 Here's another one of those 'we can beat Atom' tests where the fine detail of the result is irrelevant. The important thing here is that, like the VIA Nano comparison test, significant, market-changing progress has been made.
I've been talking about ARM's Cortex A8 for a while now and keeping an eye on it in terms of its suitability for Mobile Internet Devices. Its a powerful computing core and people like Ti are using it to build very small, power-efficient media and Internet-capable platforms. Apart from Pandora, we've seen it being promoted for use in OHA Android phones and even for netbooks.
But how fast is the Cortex A8? How fast would Firefox 3 run on a Cortex-based Android smartphone? And how accurate would it be? Intel keep pusing the 'real internet' and about how many errors you'll find with smartphone browsers but when you're running Firefox 3 on both platforms, the difference disappears. Intel also talking about speeds but when the processing power is the same on both hardware, that difference disappears too. ARM's partners have already fought back against the Intel Atom machine a few times in the past (Nvidia here and here) but this video strikes right at the heart of Atom/Moblin. It shows Firefox 3 running at impressive speeds. Forget the normalised comparison at the end of the video, any browser that can average under 10 seconds per page as shown in this demo is going to be good enough for almost everyone. Its twice as fast as previous ARM-based devices and completely removes the 9-second disadvantage that I've talked about before. [see video below]
We are entering a significant moment in the MID story where two huge players are now able to compete on level ground. ARM's partners and Intel's partners are able to play like-for-like on both hardware and software in the mobile Internet category. Moblin vs Android. Cortex vs Atom. Both could offer the
FIE
.
Is there going to be a winner and a loser or will they both find comfortable positions and both win in this new market?