Initial Thoughts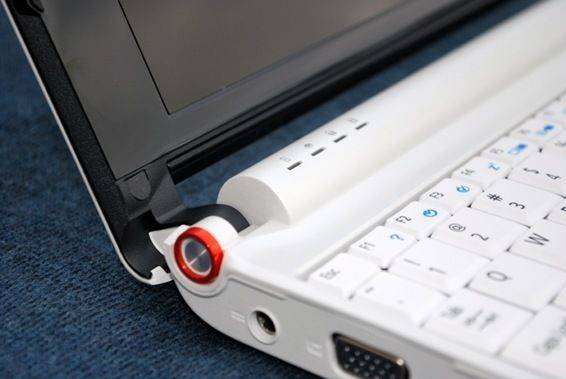 When I got the Aspire One unboxed, I was quite surprised at the attention to detail. This $450 netbook is actually one of the more finely styled laptops I've ever used. They didn't go overboard trying to make the unit look 'stylish' like you might notice on some HP laptops. Instead, there is a very simplistic tone that is accented by a few sharp details. Most notably of course are the rings near the screen hinge which appear as metallic orange/red color. They are deceiving as they aren't actually part of the hinge as you might be lead to believe when the lid is closed. It is apparent that the design was not an afterthought.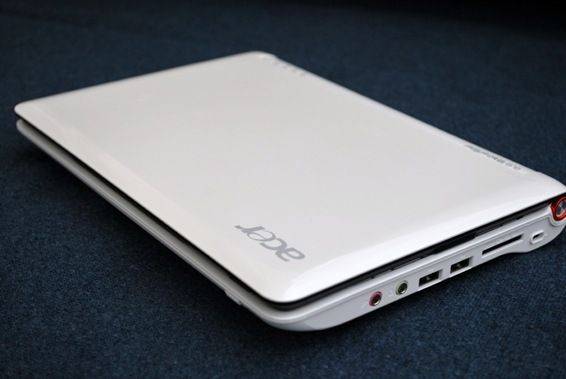 The top of the lid is a glossy finish but doesn't show fingerprints too much because of the white color. The lid also has some nice, subtle, rounded edges that add to the simple style of the unit. Opening up the lid will reveal some commonly placed rubber stoppers that allow the screen to close safely and make sure the bezel doesn't scratch on the body of the computer.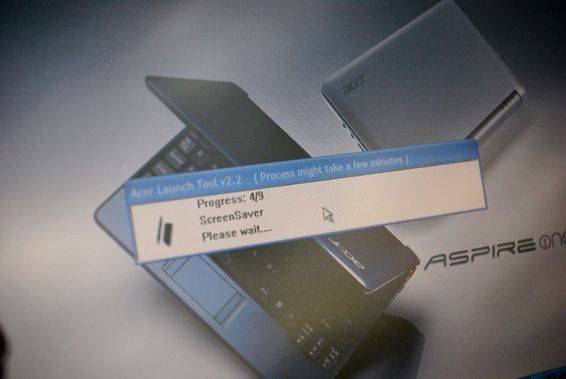 Upon booting the Acer for the first time, it took 10 minutes or so to get through the regular Windows setup process, then the 'Aspire Launch Tool' ran which took another 10 minutes and installed drivers, a screensaver, etcetera. Speaking of which, come on Acer, do you really need to advertise a product I already own to me through a screensaver?
Hardware
Most people are familiar with the standard laptop form-factor, this is exactly the same, just smaller. The unit itself feels nice and solid, there is no battery wiggle which is always a good sign. Putting a card into the left SD slot can result in it being very hard to remove; when it is inserted, it is almost flush with the side of the device, making it hard to trigger the spring which pushes it back out. Worst-case would only involve getting something small and pointy to make it easier to push in and eject, but it would be nice if it stuck out a bit more. Oddly enough, on the right multi-card reader, there is plenty of overhang making it very easy to press in and remove.