Trackpad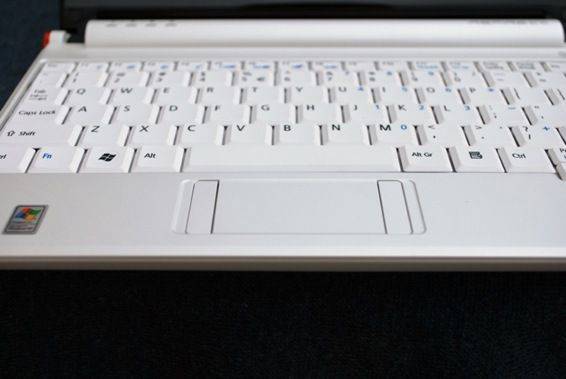 The trackpad on the device is smaller than that of a full sized laptop, but uses Synaptics pointing and is very customizable. There are lots of options for tuning the pad to function just like you want it. It can detect multiple fingers so there are a few multi-touch gestures available to you. However in my limited testing, it seemed these gestures worked inconsistently at best, sometimes I couldn't seem to get them to work at all. The default configuration of the trackpad left the mouse moving very slowly and it required several swipes to move fully across the screen. I personally like a bit more sensitivity, and I adjusted my mouse movement speed so that one full swipe from left to right will move the cursor about half way across the screen.
The mouse buttons flank the trackpad on the Aspire One. On this particular unit, the left mouse button has a nice audible click, and could be just a tiny bit easier to press, but it feels pretty good overall. Unfortunately, the right mouse button barely makes a sound and is more on the squishy end of the spectrum; still plenty usable. I personally like to use the tap-to-click feature of most modern trackpads, but the placement of the left button doesn't seem to be any worse than the traditional below-the-trackpad placement.
Screen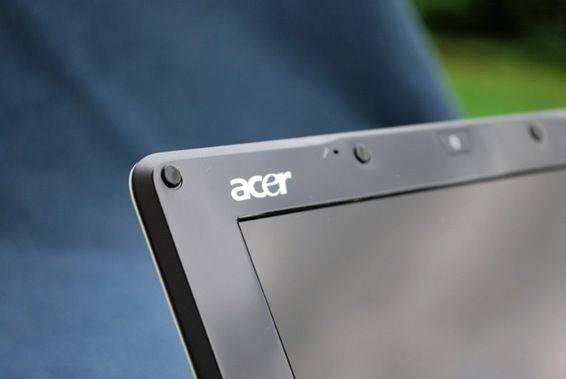 The Aspire One has an 8.9″ screen running the standard 1024×600 resolution. The screen's finish is slightly glossy, and brightness seems adequate. The bezel around the screen is not any wider than many other netbooks.
The only problem I have with the screen is that it seems to have a small vertical viewing angle. The screen washes out if you are looking at it at an acute angle, or the contrast will die out if your viewing angle becomes too obtuse. This happens with all LCD screens, but the Aspire One seems to have a smaller vertical viewing angle than most. To put this into perspective: if you are working on a word processing document and adjust your seating position from being slouched over a bit to a more upright position, you will probably notice the wash-out and have to adjust the screen. It is possible that this particular unit has a screen issue that is causing it, but the horizontal viewing angle range seems just fine so I'm leaning toward this being an actual characteristic of the screen.
Keyboard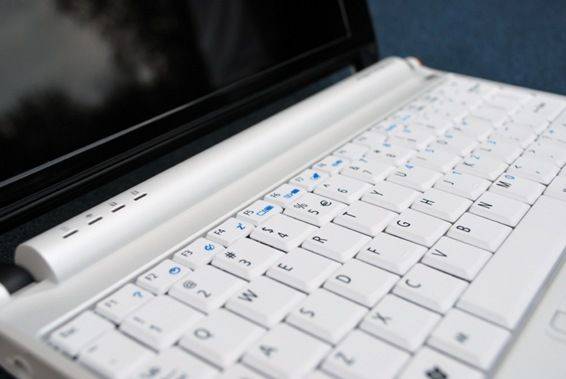 I have heard many people complain about keyboards being one of the major problems with netbooks, and I'm happy to be able to tell anyone reading this review that the keyboard on the Aspire One is absolutely superb. This is a big change from the Vye S41 that I looked at last time, which had a cramped keyboard on par with the first batch of 7″ Eee PCs. Acer did a great job with the keyboard on the Aspire One, staying true to most standard key placements. The full sized shift-keys on the left and right are very welcomed, as a small shift key can be frustrating. Every key has a regular laptop feel to it, and I haven't had to modify my typing style very much at all to use the Aspire One's keyboard efficiently. I would say my fingers are medium-small, and the keyboard really feels like it is offering a full typing experience. I can safely recommend it to people who need to be writing papers on the go. In fact, this entire review is being written on the Aspire One's keyboard.
The keys are white with black characters, and special FN characters are a royal blue color, which I think looks nice on the white keys. F1 through F8 are bound to alternate functions which are useful for calling up info quickly. There is help, power options, system properties, sleep, monitor output, screen off, trackpad toggle, and mute buttons all bound across said F-keys. Activating Num-Lock (F11) will allow you to use the quasi-numeric FN keypad that has been placed over some of the standard alphabet characters.