Software
This was my first time testing an Atom based device. I've read much about it, but you really don't know until you have tried it for yourself. It should be known that my experience with the 1.6GHz Atom CPU in the Aspire One was definitely positive. Running Windows XP, the Aspire one zooms around quite nicely, never seeming to hang on window or application loading. It is important to be realistic when it comes to your CPU, this definitely won't be running any heavy games, but it has the power to run the things is was designed to; primarily surfing the web, consuming lite media, and simple tasks like photo organizing or word-processing.
Performance
Lets take a look at some numbers. Here is how the Aspire One handled Crystal Mark: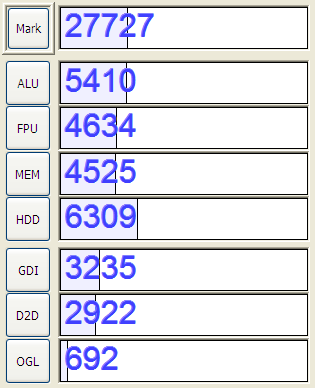 I was impressed to see the Aspire One score 27k in Crystal Mark. This isn't a super high score by any means, but considering the price of the computer, it is pretty impressive. The VAIO UX180 that has been my main computer for almost three years now, scores around 23k. The major difference is that the Aspire One can be had for $450, while my UX had cost $1800+ back then. So it is great to know that the Aspire One is a bit more powerful, and considerably less expensive.
The HDD score seems very good, as the SSD equipped UXs score 8k-9k in this area. While the HDD is a bit slower than those blindingly fast SSDs, it has a very sumptuous 120GB capacity.
Here are some quick boot tests:
| | |
| --- | --- |
| Into Hibernate | 12s |
| Out of Hibernate | 15s |
| Into Standby | 7s |
| Out of Standby | 4s |
| Cold Boot | 53s |
| Shutdown | 16s |
Boot times don't look out of the ordinary. Standby was pretty snappy, but I still always set the power button to hibernate as it takes just a few more seconds, but does a complete power down, as opposed to standby's low-power mode.
YouTube playback works without any problems. Flash h.264 720p video works pretty well through a web browser, but I was experiencing a few slow downs during busy scenes. The same 720p video downloaded as a WMV played back with no problem through WMP.
Included Software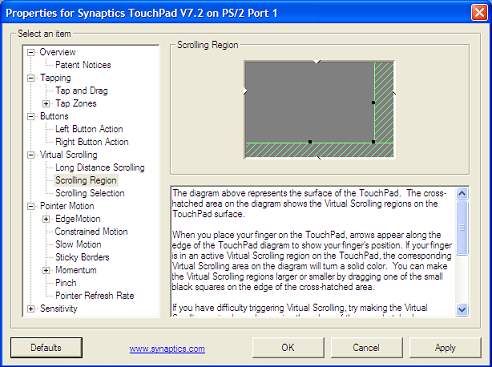 Above you can get a small glimpse of the incredible amount of options that the Synaptics configuration tool gives you. I was really impressed with how configurable to trackpad was, and I would recommend that any new Aspire One user peruse all the settings and understand all the different ways that they can configure their trackpad.
I was a bit taken back by the lack of power configuration options on the computer. There is nothing beyond the default Windows options (how long you want the computer to wait before standby and such). I thought I would at least be able to set brightness while plugged in/unplugged but it doesn't seem like that can be done. The Linux variation of the Aspire One might have more robust power options.
Aside from that, there are not many other piece of included software that you wouldn't find on any other default Windows XP install. There isn't even a web cam utility like some other laptops might include, you just access the webcam using Windows default handling of it, or through other applications.