Battery Life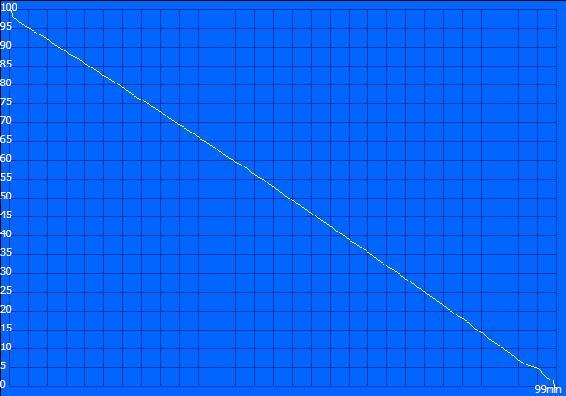 Battery life is always one of the most important parts in a laptop purchasing decision, and unfortunately I can't say that the Aspire One is going to impress anyone with its battery life. Using the Battery Eater Pro program and running the classic test, which runs the CPU near 100% usage until the battery dies, the Aspire One saw just under 1 hour and 40 minutes of usage. The battery discharged consistently the whole way which is a good thing. Remember though that the classic test is constantly stressing the CPU; you can expect a battery life of 2:00-2:30 during regular use. The optional 6-cell extended battery should bump the battery life up to around 5 hours (Acer claims 7 hours).
The fan noise seems standard for a netbook like this, and the heat produce seems to be average as well. The fan is always going at a low hum, but occasionally it cranks itself up pretty high.
Included Accesories
The only thing that came with the Aspire One beyond standard documentation and an A/C adapter was a simple slip case. The case seems to be made out of a fake black leather but it feels nice. It is adorned by an imprinted Acer logo, but other than that it is quite bland. It is pretty thin so don't expect it to save your Aspire One against any big drops, it is mostly just for protecting against scratches during travel. It does not have any way to seal shut, you just slide the Aspire One in and go.