Motorola Droid Bionic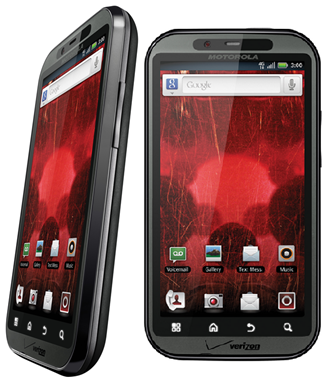 Though whispers of the Droid 3 are already floating about, we'll likely see the Motorola Droid Bionic [tracking page in our database] before the Droid 3 is even officially announced. I see the Droid Bionic as a successor to the Droid X, rather than being in the same series as the Droid 1, 2, 3.
Specs:
While the Thunderbolt may be the first out of the gate with LTE, the Droid Bionic is going to pack a lot more punch. The Bionic is running a powerful NVIDIA Tegra 2 AP20H dual-core processor clocked at 1GHz. Motorola says it'll be able to handle 1080p video output through a mini-HDMI port. The Bionic will also up the screen ante with its 4.3" 'qHD' display which has a resolution of 540×960 (16:9). Here's the full list of specs:
Android 2.2
4.3" capacitive touchscreen @ 960×540
nVidia Tegra 2 AP20H Dual-Core CPU @ 1GHz
512MB of RAM
14GB of integrated memory
MicroSD slot with support for additional 32GB of memory
4G / 3G – LTE band 13 / EVDO
WiFi b/g/n + Bluetooth 2.1
HDMI out (likely mini-HDMI, but it's unclear)
8MP rear camera with dual LED flash and autofocus, 720p recording at 30 FPS
0.3MP fixed-focus front facing camera
Hands-on
Folks who went to CES 2011 this year were lucky enough to play with the Motorola Droid Bionic before pretty much anyone else. Here's a nice overview of the phone from the event (performance looks sluggish, but this is likely pre-release hardware and software):
.