Samsung 4G LTE Smartphone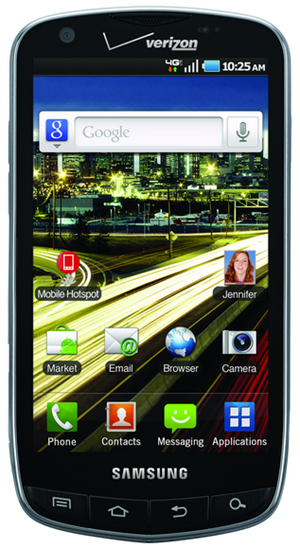 The "Samsung 4G LTE" Smartphone" is certainly the most elusive of Verizon's upcoming 4G devices. So elusive, in fact, that it doesn't seem that it has an official name yet! At least we have a decent shot of the device and some specs. And at least it looks a bit different from the Galaxy S phones that Samsung has been churning out lately. Due to the relative lack of info, I've got to guess that the Samsung 4G device will be launched on the tail-end of Verizon's initial 4G device lineup.
Specs:
Android 2.2
4.3" Super-AMOLED Plus capacitive touchscreen (which we thought was outstanding on the Nexus S)
1GHz CPU (unspecified, but I'm willing to bet it's Hummingbird!)
8MP rear camera with LED flash
Front-facing 1.3MP camera (better than most)
HDMI-output
Hands-on:
Thanks to PhoneDog, you can see a hands-on overview of the Samsung 4G LTE Smartphone:
.
Next Up: Samsung Galaxy Tab 4G