The Atom chip. Windows 8. For those seeking productivity and portability these technologies promised to fulfil that need but ultimately fell short. Intel's Bay Trail CPU and Windows 8.1 are designed to finally meet those needs but do they really combine to produce the perfect storm for Windows tablets? The Dell Venue 8 Pro is the first of the new breed of Windows tablets out of the gate, does it have what it takes to satisfy the demanding needs of the professional on the go?
Note from Chippy:  EfJay has been writing for Ultrabooknews and UMPCPortal for some months now and he's recently bought himself a Dell Venue 8 Pro. Here's his early review of the Dell Venue 8 Pro. Feel free to ask questions below. Now back to EfJay…
First let's look at what's inside the Dell Venue 8 Pro.
Unboxing the Dell Venue 8 Pro
More specifications, links, images and videos available on our Dell Venue 8 Pro information page.
Dell Venue 8 Pro Specifications.
8 inch 1280×800 HD IPS display w Active Digitizer (more on this later)
Intel Bay Trail Z3740D 1.33Ghz Quad core CPU with Intel HD graphics
2GB DDR3 RAM
32 or 64GB eMMC storage
Office Home and Student 2013
Dimensions: 216.2 mm (8.51") x 130 mm (5.11") x 9 mm (0.35"); 405g (0.89lb)
Ports: Micro USB 2.0, microSD, headphone jack
1.2MP front and 5MP rear cameras
The Hardware – design, build, ports
First impressions out of the box are good, with the Venue 8 Pro feeling solid in the hand with a nice weight while feeling sturdy and easy to hold in one hand. While it's a traditional black slab, construction is solid with no creaks or misaligned areas and overall fit and finish are top notch. The corners are curved so they feel comfortable when held and the back is covered in a rubbery finish with lightly raised concentric circles that seem to radiate from the Dell logo providing good grip. Also on the back here is a simple Intel inside logo. The front is all about the glossy display that looks sleek but professional as it seamlessly blends into the bezel, with no logos and only the opening for the front facing camera breaking the clean, black fascia. Overall it feels like a well-made product that feels more expensive than it actually is due to its solid feel.
On the right hand side (held in portrait mode) we have the micro USB port used for charging and connecting devices with a USB OTG cable, power and volume up/down buttons near the top of the tablet and lower down there is a micro SD card slot hidden behind a flap.
On the top of the device is the headphone jack and Windows key. The bottom houses the single speaker
The size and weight make the device easy to hold in one hand in portrait orientation while being operated by the other and with a bit of manoeuvring you can reach the buttons on the right side while holding it in the same hand. The Windows key is more problematic to get to when held like this in which case the charms would be better placed, but when used in landscape orientation the key is right under your thumb so can be activated easily, though it does take some getting used to. At the other end the speaker is placed slightly off centre so you're less likely to cover all of it while holding in landscape mode. For tablet usage it's more comfortable and easier to use than a 10" tablet like the Acer Ionia W510 and can be used on the desktop for more serious work but is definitely more suited to consumption using store apps because of the smaller display. It's worth noting that snap does work with 2 Windows store apps but again the screen size makes this less than ideal for long stints of use.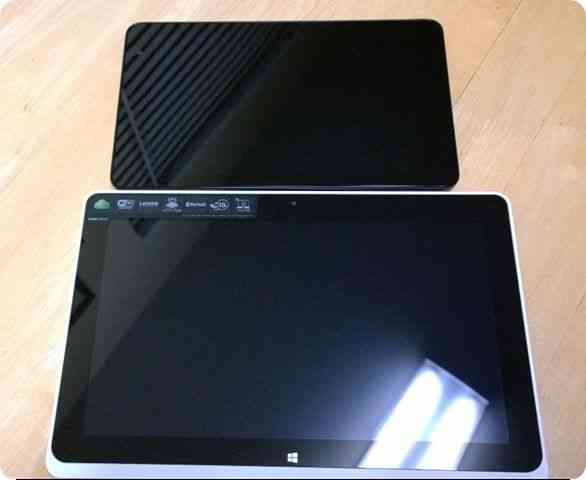 Display
The display is an IPS one that supports 10 point multi-touch and while the resolution is not the highest it is very clear and easy to read with very high brightness levels at a rated 400 nits. The auto brightness tends to make the screen quite dim though so check that if the screen quality seems below par. At 60% brightness when plugged into AC power the display is easily readable under indoor lighting and can be cranked up higher for outdoor usage.
Viewing angles are very good from all sides and while reflections can be a problem due to the glossy screen you can still clearly see what's happening on the display. Touch sensitivity is good but sometimes a bit too good, with scrolling occasionally being interpreted as a tap.
The display also supports an active stylus but the technology is not provided by Wacom or N-trig but Synaptics. We don't have the stylus on hand to test as it's not included as standard but early reports are that it does not perform as well as its rivals. If possible we'll add some info on that later on but Dell's website has a full write up on it and its capabilities. (Link) As for protection, there's no mention if the Venue 8 Pro uses Gorilla Glass or any other kind of protection for the screen.
Dell Venue 8 Pro Performance
When it comes to performance, the Atom in the DV8P is the same as previous iterations in name only, as the Z3740D Bay Trail chip provides much better performance than the previous generation Clover Trail and makes using the Dell a smoother experience over Windows 8 launch devices. Across the board things feel snappier and more responsive, Windows store apps open quicker and the traditional desktop feels better to work with. It's still less powerful than a Core processor but you don't feel like you are waiting around for things to happen with the Dell.
Testing a few Windows store games also shows the improved performance, with more consistent graphics and smoother gameplay. Navigating the OS is much more fluid than with a Clover Trail device, with app switching executing quickly. Browsing the web showed significant improvement, with any slowdowns only seen loading some sites which seemed to stall for no apparent reason before resuming. The tablet does get a little warm in the top right corner (when held in landscape orien6tation) under normal use but nothing major, however doing demanding tasks like gaming can get it a little uncomfortable.
And yes, the Dell can play Civ 5, though only at low settings, higher quality causes the Dell to lag quite a bit.
Wi-Fi performance is also good, with a strong signal in various areas where it was tested though speeds seem to max out at 150Mbps which may be due to the Verizon FIOS router it is connecting to. There was one instance where the Wi-Fi connection status dropped and showed "Limited" but a reboot fixed that and the issue has not reappeared in the week of testing.
Benchmarks vs the Clover Trail Acer W510 running Windows 8.1 confirm the improved performance:
Dell Venue 8 Pro 3DMark Ice Storm Score
Dell Venue 8 Pro: Maxed out, 8440, 13844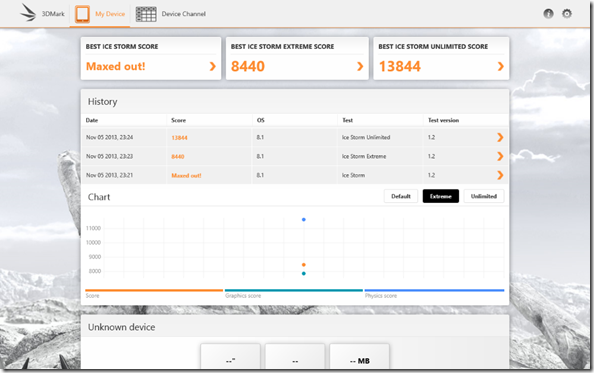 Acer W510: 3697, 1840, 2997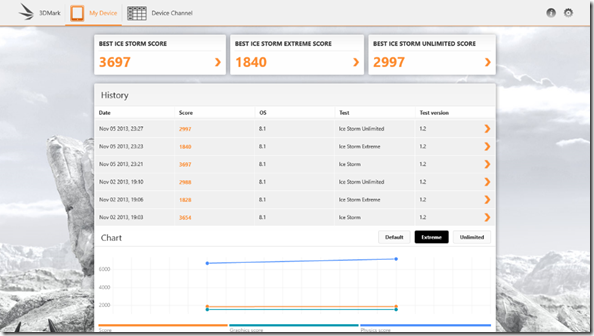 Cinebench 11.5
Dell Venue 8 Pro left: OpenGL:5.171 CPU:0.92
Acer W510 on right: OpenGL: n.a CPU:0.53
Note that First generation Ultrabooks scored around 1.3 on the CPU test, 8.6 on the OpenGL test. Current Ultrabooks with Haswell score around 2.5 on the CPU test and 17 on the OpenGL test.
CrystalDiskMark SSD speed tests.
The Dell is faster than the Acer in all but 2 read tests. Note that the storage uses the eMMC interface standard and not the faster SATA standard as found on laptops and Ultrabooks. Dell on left, W510 Clovertrail tablet on right.
Battery life, storage, speakers
Battery life on the Dell is decent, coming in at around 8 hours (less than the 10 hours Dell advertises) from its 18whr battery with brightness set at 35% and using the Dell power profile which has minimal options, for use like browsing, listening to music and maybe a few short videos. Results may differ at different brightness settings and usage scenarios.
Power consumption during sleep clocked in around 1% during a 4 hour period in connected standby; charging takes just over ?3 hours to reach full capacity from empty but is slower if the tablet is in use. Having Bluetooth activated also seems to have quite a negative effect on the battery when the device is idle but not as much if actually connected to a BT device, so if not in use be sure to disable it.
Gaming predictably makes a huge dent in battery life, with about 10 minutes of gaming (Civ 5, SoulCraft) dropping the battery from 98% down to 83%.
Storage
With the 32GB storage version free storage on a brand new system is about 12GB excluding Office 2013 so it might not be the best option if you intend to install lots of applications and games. There is a 4GB recovery partition that can be removed to reclaim that extra space but that makes restoring difficult as the Dell only has one USB port and requires power to perform the restore and with reports suggesting that powering the device while connected to a USB OTG cable isn't possible a restore from USB will prove tricky.
Speaker/Headphone output
The Dell ships with only a mono speaker at the bottom of the tablet but while it's only a solitary output it actually sounds pretty good, able to reach high volume levels without distorting and still sounding clear. The headphone output has decent sound too, with just a bit of emphasis on the bass but still with good separation between the stereo channels and a clear top end.
Video output – Miracast
As the dell doesn't have an HDMI port for video output your external viewing options are limited to either DisplayLink using the micro USB port with an adapter or buying a Miracast adapter. Unfortunately testing with a Netgear PTV3000 produced inconsistent results, with the output only usable in a certain scenario which may not suit everyone.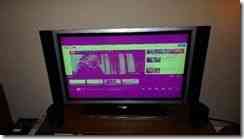 Using the latest Dell 3.3.2.45 Wi-Fi driver and Netgear firmware version 2.4.19 produced the best result, with the tablet set to project its output as a second screen to the TV. This setup requires a keyboard and mouse to be available as all activity is being shown on the secondary screen. Trying to change the project setting to anything else resulted in either a display output with a purple cast (as shown below) or nothing actually happening. Also after disconnection you had to delete and re-pair to the Netgear adapter to get video output working again and the tablet was forced into portrait mode.
Testing with the latest firmware 2.4.26 produced the distorted picture no matter what output was chosen. However the disconnection and portrait mode issues were fixed in this firmware so its possible future updates could resolve all the issues observed.
Summary
In summary, the Dell feels more like a regular, full powered PC than a tablet built for casual usage. Tasks execute quickly, with the exception of things like installing programs or unzipping files since that is still dependent on relatively slow eMMC storage but once programs are installed working with them and navigating round the OS feels responsive and fast in such a way that you do not feel you are using a budget system. Only a side by side comparison with a more powerful PC will expose the Dell's limitations but in isolation it could easily work as a main system for work processing, web browsing and even some light PC gaming. Compared to Atom devices of old including those that launched with Windows 8, the Dell Venue 8 Pro and other Bay Trail tablets are a much better and satisfying experience and finally realize the dream of having a full PC in your hand without compromising on performance, portability or battery life.
Stay tuned for more on the Dell Venue 8 Pro soon.  More specifications, links, images and videos available on our Dell Venue 8 Pro information page.