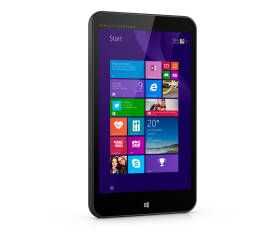 For those of us that respect the flexibility of a fully functioning desktop PC in the palm of one's hand the information, just a tweet, that Windows 10 tablet products under 8-inches will not have desktop capability is bad news. But there are advantages to using an RT-only setup on Windows.
There are few sub 8-inch tablets around that will be affected so the new restrictions won't affect many people but take a look at the industry-focused, Core-i5 Panasonic Toughpad FZ-M1. This is a product that relies on the desktop for Win32 desktop apps. I've seen others industry-focused solutions at 7-inches too. As CPU sizes fall and efficiency increases we're able to do more and more on the low-end tablet PCs. I've demonstrated docked solutions many times and without a desktop all that functionality and flexibility is lost. Do you really want a full-HD screen where you can't run a full edition of the Chrome Browser. I still use Windows Live Gallery, Putty, Audacity and many of my benchmarking apps are Win32 apps. There are a large number of Win32 apps out there that are finger-focused too. Having a desktop option means having flexibility and that's what many people enjoy about small-screen Windows tablets. But the desktop is old, boring, insecure and heavyweight. Isn't it time to turn it off on consumer touch tablets or to, at least, having the option?
In essence, RT on X86 (via a disabled desktop) is not a bad thing. By reducing Windows to the 'RT hypervisor' means that you get a more efficient and more secure environment without the shock of an unusable touch-desktop and desktop settings screen. 'RT' mode would be great for 8-inch and 10-inch tablets with 1GB too as it frees up RAM and reduces hardware requirements.  There's even a case for disabling the desktop in larger devices. As 12.5 and 13.3-inch devices get smaller and lighter there's a growing market for big-screen readers. Windows desktop the OS can be smaller meaning that the mainboard requirements (and cost and size) fall for these consumer-centric devices.  The old issue of having a restricted choice of Modern applications is falling away and will get a big boost from the new set of 'RT' apps that Microsoft will introduce in Windows 10. Office is a good example.
Update: As suggested in the comments, if you support this option, go to Uservoice and add your vote. Here.
Of course the best option would be to have a choice, at least for desktop-class processors. This is the option that those devices need:

 The question of having a desktop or not having a desktop remains open in my opinion. There are very good cases for removing it and not just on 7-inch devices. The brief information from the Microsoft tweet didn't exactly cover all cases either so we can't draw any conclusions as to what will really happen after feedback. What about fresh Windows 10 installs or installs that use an external display, installs that trick the OS into thinking the screen size is more than 8-inches. At least we know that existing Windows devices will get an update to Windows 10 with the desktop… "Folks asking about updating 7″ *existing* devices to Win10 — you keep your desktop, you get continuum. Go try it yourself now," is what we saw in a follow-up tweet indicating, to me, that this is just a move by Microsoft to make it easier, and cheaper, for consumer-focused tablet manufacturers. Specialist devices like the Panasonic Toughpad might get the full-fat image installed and we'll probably find work-around. RT-only mode is important for security, efficiency, standby features and for promoting Universal apps too but please, Microsoft, let us have the choice.