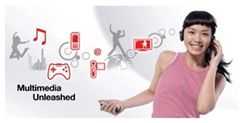 While it's very exciting to be thinking about OMAP 4 and Sparrow, they are a long, long way away from being a reality in a device. More interesting today are the Cortex A8-based products. Texas Instruments have the OMAP3 platform which includes a Cortex A8 core and you can find it in a number of leading-edge computing products like Open Pandora, the BeagleBoard and, when it launches, the Palm Pre. As these and other OMAP34xx devices reach the market, Ti will be feeding in a new range of OMAP3 platforms known as the OMAP36xx series. The platform doesn't change much in terms of building blocks but there are important incremental improvements all round. The platforms will be available for sampling in Q3 2009 which probably means 2010 production and products.
Most important are the improvements brought by moving to a 45nm process (as the Intel Atom uses) which are said to improve efficiency by up to 25%. An extra 30 minutes mobile browsing time here and there is never a bad thing! Key features reported on the press release are shown below.
45 nm CMOS process technology delivers higher performance with lower power consumption versus the OMAP34x family, including an approximately 25% reduction in power and 75% improvement in graphics performance.
Robust multi-tasking platform that supports running multiple applications in parallel by simultaneously exercising the CPU, multimedia performance and 2D/3D graphics engines.
Dedicated 2D/3D graphics hardware accelerator, enabling more immersive user interfaces and compelling graphics for applications like realistic 3D gaming.
Smart pixel technology via OpenGL ES 2.0 delivers stunning imaging capabilities through advanced reflection effects and life-like facial features.
Supports multi-standard 720p HD functionality for HD video recording and playback.
Integrated image signal processor (ISP) supporting up to 12 megapixel (MP) imaging for enhanced photographic image quality and fast shot-to-shot camera performance.
Pre-integrated support for mobile connectivity, including TI's current and future combo WiLinkTM Wi-Fi solutions, NaviLinkTM GPS solutions, and BlueLinkTM Bluetooth(r) solutions.
More details on the Ti product pages