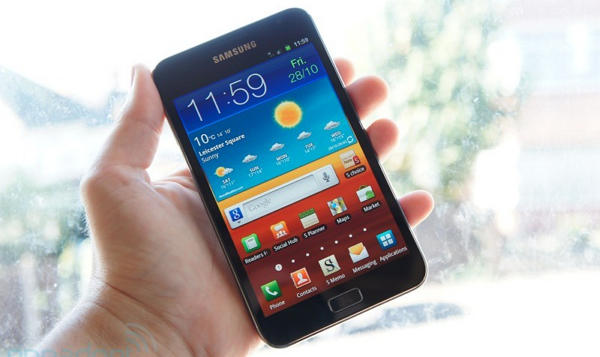 The Samsung Galaxy Note may still be up in the air for a US release, but the lucky devils over at Engadget got their hands on the stylus equipped phone for review. Toward the end of the review the reviewer, Zach Honig, notes that "the Galaxy Note is one of those devices that you'll either completely love or totally hate." I'm not sure how true this is though. Even though I might despise the massive 5.3″ screen because of single-handed-use ergonomic issues, the compromise might be worth it for the increasingly appealing stylus functionality.
The Samsung Galaxy Note has a capacative touchscreen with an active-digitizer component for smooth and accurate digital inking. It seems Samsung learned a thing or two from HTC, whose Flyer tablet had a stylus which could only be used for drawing in specific places; all interface navigation had to be done with the finger. This created some annoyance because you'd have to switch back and forth between finger and stylus. And let's not forget that the stylus was an optional accessory!
Not only does the stylus for the Samsung Galaxy Note come included, but you can also navigate around the UI with it. Thanks to some good forethought on Samsung's part, they even added gestures for the Menu and Back buttons (which are below the main screen and thus cannot be activated with the stylus). This means you can cruise through the entirety of the UI without ever having to switch to your finger — a problem that that HTC Flyer also shared with the beautiful but flawed Nokia N810. There's a modifier button on the stylus which is used to activate the aforementioned gestures, and you can also use it to pull up a quick note space by double-tapping; this seems like it would come in very handy!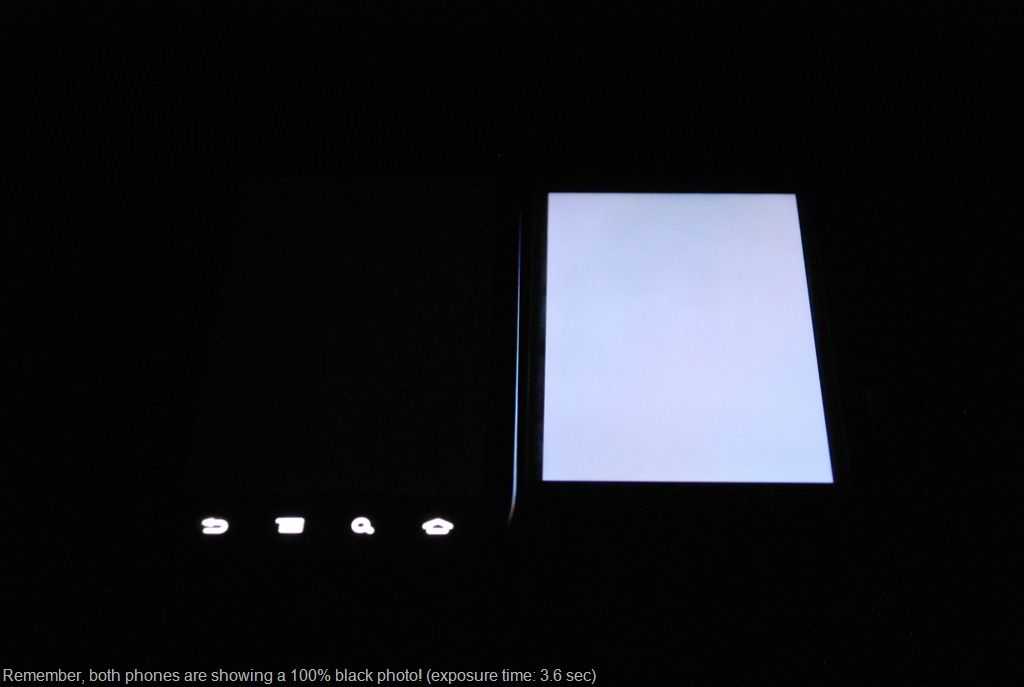 The massive (5.3″) high resolution screen (1280×800) is obviously front and center on the device, and it's Super AMOLED nature means its got rich colors and deep blacks. This is the same Super AMOLED technology that Samsung used on the Nexus S [review] and the black levels (and thus contrast ratio) absolutely blew me away. I took a photo with a 3.6 second exposure  of the Nexus S next to the iPhone 4 with both phones at max brightness and displaying a completely black photo. The results (left) speak for themselves.
I'm sure the massive screen looks gorgeous and crisp, but the size is definitely going to be a point of contention for many. Honing says right off the bat that "Holding something this large up to your ear can be rather unpleasant — and unsightly" but I suppose this won't be an issue if you don't tend to use your phone as… well, a phone.
Engadget has plenty more info in their Samsung Galaxy Note review, go check it out!