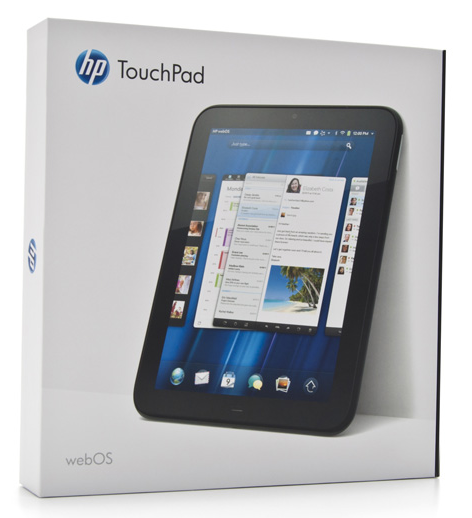 The HP TouchPad is dead right? Well, apparently there's still some stock floating around, and Woot seems to have snatched it up. Today, they've got it on sale for you. It isn't quite the firesale price of many months ago, but still a good deal if you like the HP TouchPad.
While I haven't had the chance to give them a try myself, pretty much everyone I've heard from has really enjoyed WebOS products, including the TouchPad. It's of course a shame that HP decided to halt the production of the HP TouchPad, along with the Veer and Pre 3 smartphone. As of now, HP says that the WebOS software is going to go open-source, which means the TouchPad might have some longevity after all — if you're the kind that is able to take advantage of sometimes harder to use open-source content.
Anyway, this is a WiFi-only refurbished model (of course) with 32GB of storage, a 9.7″ 1024×768 screen, a dual core 1.2GHz CPU, and 1GB of RAM. Woot is selling it for $219. If you want a full list of specifications, see the HP TouchPad tracking page in our device database. In the box from Woot, you'll find the following:
HP TouchPad
HP TouchPad AC Charger
microUSB Sync Cable
Getting Started Guide
Navigation Guide
Woot also had the
16GB HP TouchPad on it's sister site, Sellout.Woot
today, but all 739 units sold out within 2 and a half hours. I'm curious to see not only how many units of the 32GB HP TouchPad Woot has, but also how they'll sell after people were able to snatch them up at $99 a pop (for the 16GB version anyway). And don't forget, because this is Woot, this deal is good only today — it'll be gone at 1AM EST tomorrow morning — and could sell out even before then.
Of course, if you are late on the draw and find this deal already sold out, Amazon apparently has just a few HP TouchPad's in stock for a reasonable price. There is the
16GB HP TouchPad for $270
(Amazon says "only 3 left"!) and the
32GB version for $297
(only 4 left!); the latter being the better deal!