This is fantastic news. Nokia maps and navigation services are, in my opinion the best in the business and on Windows 8.1 there's a huge gap in the market for a decent solution. Via our friends over at The Digital Lifestyle I've just learnt that Nokia are opening up the Here mapping application beyond the Windows RT-based Lumia 2520. It's going to be available in the Windows 8.1 store in the next few days.
Update 1/3/2014: Available now. Works smoothly on Baytrail-T tablets. No turn-by-turn.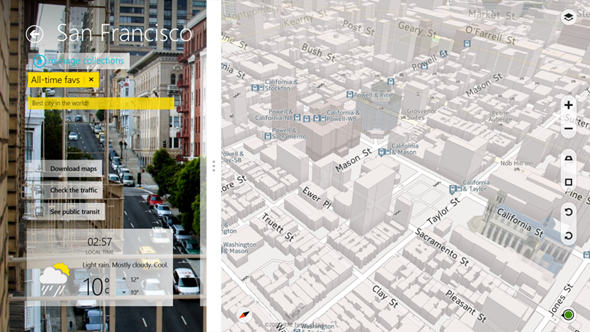 I can't confirm if turn-by-turn is included yet (interesting for those with 8-inch Windows 8.1 tablets that have GPS such as the ASUS Vivotab Note 8) but I can confirm that offline maps are supported, route planning, POI and more.
What I suspect is happening is that because Here is being offered for free, there might be up upgrade path to turn-by-turn, if Nokia deem it to be worthwhile developing that part of the app.  Any Lumia 2520 owners care to comment?
I'm in Barcelona next week so I can't wait to get the Full-HD Lenovo Miix 2 10 loaded-up with hi-res maps. Yes, I'll be ripe for a mugging, but I'll do it for you, dear reader !
Note: I'll be getting some hands-on with the Lumia 2520 next week. Stay tuned.
Source: Nokia