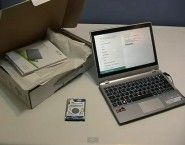 Update: The Live Testing session is over. Some notes below.
I've just started a live stream while I test the Acer Aspire V5 122P, the AMD Temash-based laptop. The stream will run from now and at 2100 Berlin (15 minutes from this post) I'll start to introduce the Acer and do some interactive active testing, Q&A with anyone that joins in the chat.
It's all happening on the live page right now.
Notes from Live Session below.
Update: A more controlled set of tests have now been completed. See results here.