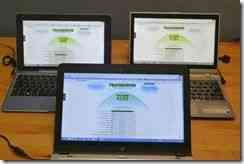 We like CloverTrail. It's the only connected-standby capable X86 platform on the market and it blows every other Windows-capable platform out of the water when it comes to battery life but in terms of processing power it's not quite enough to satisfy most people on a day-to-day basis. I've recently been testing AMD Temash and with about 2X the all-round processing performance it's enough to satisfy most people. It's efficient, but unfortunately you lose that CS-capability, the mark of an energy efficient Windows platform. At the top end of the efficiency-focused platforms are the Intel Core U processors used in Ultrabooks. They're expensive and don't offer CS capability but if its processing power you want, they are the king.
I took three devices based on each of these platforms and ran some tests to try and get some sort of guideline performance differential between the three and I've come up with 1:2:5. Where Clovertrial 1.8Ghz is the baseline, AMD Temash (high-end A6-1450) comes in at around 2X the processing power and a high-end Intel Core i7 at 2.0-3.2Ghz will hit 5X the performance of Clovertrail. Obviously these figures will vary across different tests and system builds but after running a number of tests, this is a ratio I'm happy to use as a guideline.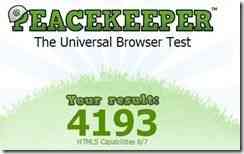 Peacekeeper, the browser performance test, is a good example as it addresses one of the most common usage scenarios for a PC. In the tests above (done with Chrome) you can see that 1:2:5 ratio showing up. (1:1.6:6 in this case)  In a Floating point test I saw 1:2:5 and in Cinebench, 1:2:5.  The Sunspider ratio was 1:1.4:6.3. The average across all the tests I performed was 1:1.9:5.1
In two days we'll have another platform to consider. Intel's 4th-Gen Core, aka Haswell, will eventually offer sub-10W parts (timescale unknown) with CS capability and a performance ratio that probably fits into the 4X range. In Q4 we'll see BayTrail that will offer lower TDP and something like 2X the current Clovertrail performance seen here. Again it will be CS capable. From AMD we also need to consider Kabini, the higher-clocked, and higher TDP version of Temash although that's really only for laptops and Ultrabook-alternatives.
Performance ratio of mobile Windows 8 capable platforms (guideline.)
Clovertrail:Baytrail:Temash:Haswell (low TDP):Ivy Bridge:Haswell (high TDP)
1:2:2:4:5:6
Clearly for Ultra Mobile PC fans looking to 2014, the BayTrail, Temash and low-TDP Haswell parts will be the most important and with BayTrail offering connected-standby, that's the one that could work best in your next Windows 8.1 handheld.
Back to today though, here's a (long) video showing three devices on three platforms with commentary and some visual indicators of performance.