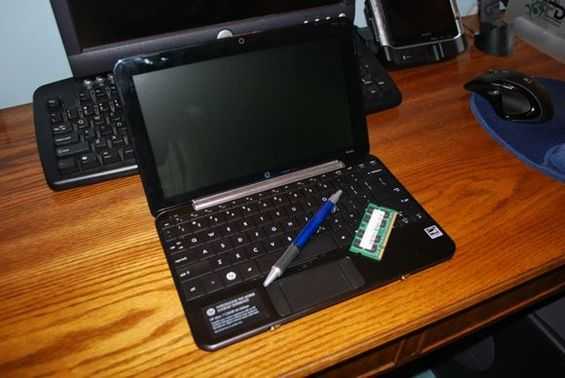 I'm writing this post for target users of the Mini 1000 MIE[link]; those that might not have done a RAM upgrade before. And of course anyone who might be Googling "how to open the RAM door on the mini 1000" because it is just a little bit tricky.
Don't fear gentle user, for HP, and most other netbooks makers have made the process really simple, and I'm here to make it even easier. The only thing you will need beside the RAM is a pen! Let's go through the steps:
Shut down the HP Mini 1000. Flip the computer over (you might want to rest it on something soft so that the top of the screen lid can't get scratched).
Slide the battery eject latch to the side as though you are unlocking the battery for ejection.
Underneath the latch you just slid to the right (if oriented like the images), you will see a small plastic piece underneath with a circle in it. Insert your pen into the circle (right the right) and slide it to the left to pop the RAM door.
Hold the slider to the left with your pen while you get a grip on the RAM door, and remove the RAM door.
Release the spring latches that hold the RAM in place (one of the left and one on the right). The RAM should pop up on the front side.
Gently remove the RAM by pulling it out in the direction that it is pointing (the angle it makes with the bottom of the netbook).
Line up the single notch with the notch in the netbook and insert the new RAM at the same angle that you inserted it.
Press down on the RAM evenly to allow the spring latches to take hold of it.
Put the RAM door back in place and slide the first latch back into a lock position.
That's it! You're all done. Easy right? Turn your Mini 1000 on and it should be ready to go. If it doesn't boot up correctly, it is possible that the ram isn't sitting quite right. Just pull it out and re-insert it and try again.