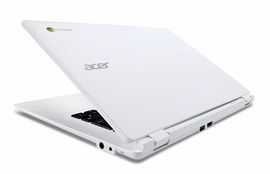 Since the day I started Carrypad (the former name of this site) there's been a continuous battle between ARM and X86 processing architectures.  Remember the Nokia 770 tablet? How about the Raon Digital Vega? [1] Today that fight is mainly in the Android tablet space but it's becoming increasingly rowdy in the Chromebook space too. I was very impressed with the ASUS C200 Chromebook recently (on Intel) and there's a 13.3-inch version of that, the ASUS C300, which will go right up against something using ARM architecture that is launching from Acer soon. The Acer Chromebook 13 running the Nvidia Tegra K1 platform and will offer similar performance, similar weight, similar price and similar battery life. Where's the differentiator?
The new Tegra-based Acer Chromebook 13 will come with a 1366×768 screen, 2GB of RAM and 16GB of storage. So far that matches the ASUS C300. In terms of weight, 3.3 pounds matches the 3.1 pounds of the ASUS. AC WiFi can be found on both along with a full-size HDMI port, 48Wh battery, webcam and two USB ports. They're both USB3.0 on the Acer but I doubt many will care much about that.
The ASUS C300 has been on the market for a few weeks now and the price has dropped down to $229 which is very attractive when you compare it to the more expensive Acer Chromebook 13 at $279. That launch price is sure to come down so I'll ignore that as I continue my comparison.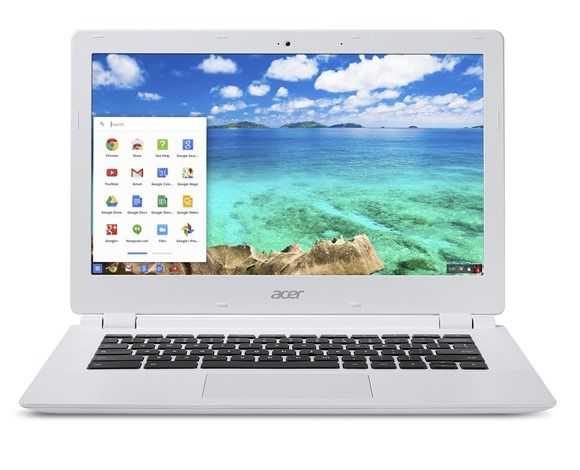 The Acer Chromebook 13 has the longest-lasting battery life of all Chromebooks – up to 13 hours!
Is the battery life the differentiator? I can show you 13-hours on the ASUS C200 but possibly not on the ASUS C300 so it's likely the Acer will win here but when you're talking about all three Chromebooks lasting a full day on a charge does it make much difference?
Is it simply down to CPU brand? Is Tegra going to attract people? "192 Nvidia CUDA Cores" sounds good!
In terms of performance, assuming the SSD speeds and WiFi performance are similar, there won't be much difference in web browsing speeds but one area where the Acer might have an edge is graphics. Gaming options on Chromebooks are rare so is the GPU really that important? There are two things to consider here. The first is GPGPU acceleration which could push up some HTML5 performance; The other is Android applications.
At Google I/O in June, Google demonstrated Android apps running on a Chromebook. Later, Google revealed that is was "done on a Chromebook Pixel running a standard development channel image and all Android code was running under Native Client."  The technicalities are still unknown but could it be that Google are building the libraries required to allow Android apps to run with mininal porting? Google admits that it's a technical challenge but it's clear that Google want to bring Android apps to Chromebooks. ""Our goal is to bring your favorite Android applications in a thoughtful manner to Chromebooks."  The Acer Chromebook 13 might not beat the ASUS C300 in 2014 but it might be the one to buy in 2015 when you take the possibility of Skype and Minecraft into account. It could break Chromebooks out of the simplicity-focused education market and right into a mainstream one. [2] 
Android apps might be the reason that Gartner predicts that Chromebook sales are likely to triple by 2017. That brings the forecast total to 14.4 million units globally. If ART and the porting of applications happens in numbers we could see a platform that competes with low-cost Windows 8 laptops for mainstream customers and exceeds that forecast. Having looked at the 'gaps' in ChromeOS closely I think ART Android apps can make a difference. Even if Skype is the only application ported over in 2015 it will make a huge difference. Low cost Windows laptops will evolve too though so competition will remain strong.
My Acer C200 overview video:
[1]This is a unique combination because the Nokia 770 was on Intel ARM and the Raon Digital on AMD X86.
[2] Corrected with additional research. Google has not officially announced that ART will come to Chromebooks. The incorrect section originally read:
"The first is GPGPU acceleration which could push up some HTML5 performance; The other is ART. ART is the new Android runtime that you'll find replacing Dalvic in the up-coming Android-L release. Google has said it will build ART into ChromeOS and that really could be a game-changer for the Chromebook. ART means that, for the first time, there will be native, non HTML5, local apps on the platform. It means games can be ported over from Android to Chromebooks. The Acer Chromebook 13 might not beat the ASUS C300 in 2014 but it might be the one to buy in 2015 when you take the possibility of Skype and Minecraft into account. It could break Chromebooks out of the simplicity-focused education market and right into a mainstream one."