I can't get the Lenovo Yoga Tablet 2 8 off my mind.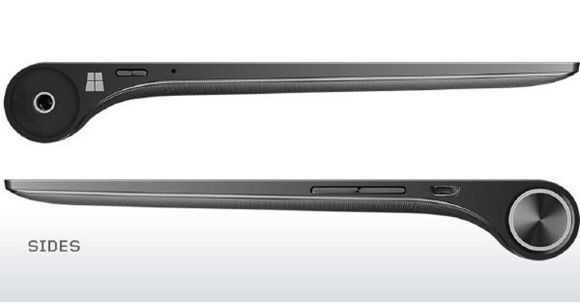 What has the Surface Pro 3, the Flex 10 and the Samsung Q1u got in common? A stand! The Lenovo Yoga tablet 2 8 (and 10-inch) has a stand too and at under 1 pound / 426 grams it's the lightest self-standing PC in the world. That makes it interesting for me, especially as it's got a 1920×1200 screen, a big battery, an LTE option and a starting price of just $299 (dual-band WiFi version.) According to a retailer in Germany that has it up for pre-order there's a digital compass and GPS. This is too good. I hope not though because I've just ordered it. I'm expecting an early November delivery.
Lenovo Yoga Tablet 2 8 specs and more information.
The other interesting aspect here is the battery. This isn't the lightest 8-inch Windows PC because it's got a huge 24Wh battery inside. In comparison to the Lenovo Miix 2 8, which is one of the lightest, it's got 35% more capacity. [The capacity is quoted at 6500 mAh. We can assume that it's based on a 3.7V battery. Anything else would be too much for this weight.]
Take a look at some of the images and imagine the use cases here. Bluetooth keyboard, kitchen, seat-back, car, armchair…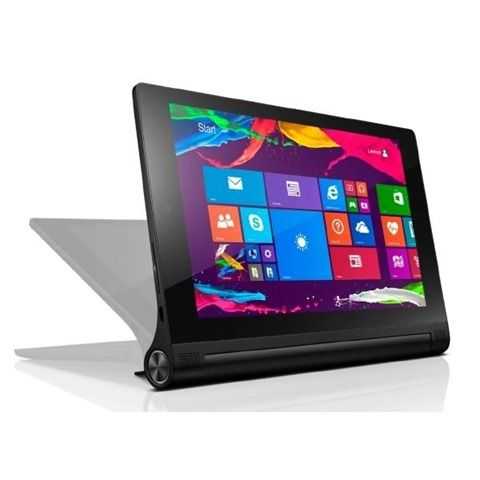 Wolfson® Master HiFi™ audio processing and Dolby® surround sound
Don't forget that Lenovo are touting good speakers too so the Yoga Tablet 2 8 could end up being your hotel-room best friend.
The camera could be the best camera yet on a Windows tablet…8MP rear camera with f2.2 wide-aperture lens, advanced glare-reducing glass and a BSI 2 sensor.
Lenovo Yoga Tablet 2 8 (Windows) issues.
Here are the trade-offs you'll have to consider. 1) It's not the lightest. The Dell Venue 8 Pro remains the best 'reader' Windows tablet on the market. 2) The stand/battery might improve the portrait reading experience but it might cause problems when thumb-typing. 3) There's no HDMI port. You'll get Miracast for video-mirroring but it's not good enough for an interactive experience in my opinion. DisplayLink over USB 2.0 works for basic office use though. 4) The SoC isn't going to be any more powerful than those of the first-generation Baytrail tablets although there's a possibility that the eMMC could be faster as it is on the Toshiba Encore 2 8 tablet. 5) Still no USB 3.0 and the charge+data issue remains. There may be hacks for the latter issue.
If you're not feeling it for the Yoga tablet 2 yet, take a look at this video from Mobilegeeks. I'll add more to this playlist.
4 weeks to wait for my hands-on. Can you wait that long or are you pre-ordering?
Lenovo Yoga Tablet 2 8 specs and information in our database here.