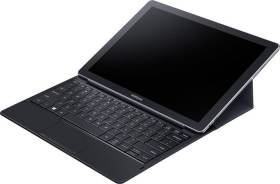 I've got two PCs coming in for a full review over the next two weeks and I'm happy to take questions. The detachable Samsung Galaxy TabPro S will be with me in the next 24 hours and the Intel NUC kit with latest Core i5 and Iris Graphics is expected by the end of the week. Although these two PCs use the same CPU design, they are targeted at totally different use-cases.
Samsung Galaxy TabPro S
Surface Pro 4, Lenovo Miix 700, HP Spectre X2 even the iPad Pro. These tablets want to replace your laptop and I have no doubt that they can. You'll need to make a few compromises over the laptop form factor but yes, they are powerful enough. Latest Core m5 and m7 CPUs are about where we were with Ultrabooks two generation ago so you'll have no problem with most business-focused office work, basic video editing up to 1080p and the usual range of multitasking. I've tested all the above and I'm now about to test the Samsung Galaxy TabPro S which fits into this category.  [I haven't fully tested a Huawei Matepad yet so can't comment on that.]
Up until now the Lenovo Miix 700 has been my favorite in this class although the Surface Pro 4 certainly outdoes all of them when it comes to long-term load performance. The advantage of a 15W TDP Core i5 shows up quickly.
In preparation for a full and detailed review for Notebookcheck that will take me over a week to complete I've checked out some of the detailed specifications. The Super AMOLED display is likely to be the highlight with infiniate contrast and the potential to boost low white-coverage (low APL) brightness in high ambient light situations. This could be the best outdoor tablet ever.
Indoors, the lack of keyboard backlight might be an issue and the fixed screen angles aren't going to be great for lapping.
My key question is value. Why are Core m based 2-in-1s so expensive? The strategy of combining 'Core' marketing with higher prices seems to be the same as was done with 'Ultrabook' and high prices. I know it can help manufacturers get over the initial cost issues of designing and selling a new form-factor but we've dealt with this form factor for 3 years now. It's time to cut the cost of Core m devices because they aren't barrier-free for your average all-day multi-tasker. The Core m3 version with 4 GB of RAM is a silly 950 Euros in Europe now.
Intel NUC6i5SYH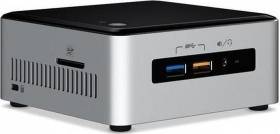 This Core i5 barebones kit also has a Skylake CPU inside but that's about the only similarity to the TabPro S. The Intel Core i5-6260U comes with Intel Iris graphics and can be fitted with M.2 and 2.5 inch SATA storage and up to 32 GB of RAM. There's a fan inside. This is a kit that has potential for gaming, video editing and all-day office working.
The main questions for many people with be 'how noisy is it' and 'can it play games.' Yes, you'll be able to get some 'low settings' gaming done on this but where non-Iris graphics modules tend to support older and less graphics-intensive games the Iris versions can handle a little more. I'll be doing some games testing so if you have any specific tests, let me know.
The NUC6i5SYH has already been through the Notebookcheck lab tests and it's on its way to me now. Again the review will take about a week.
If you've got specific questions about either of these Skylake-based PCs, let me know in the comments below and I'll take them into consideration.