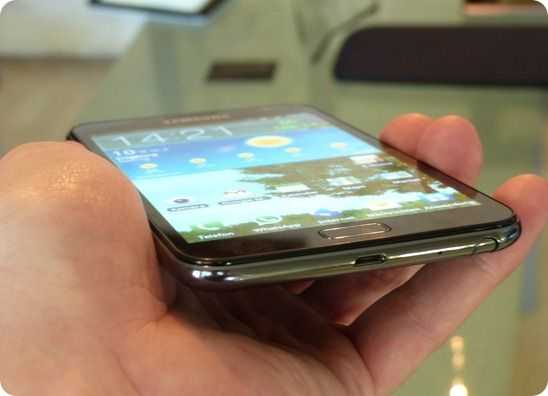 The Samsung Galaxy Note has been available for a while here in Europe so it made sense to get some more hands-on time with it. My first hands-on at IFA was done just minutes after it was announced and I have to admit, there were lots of key features I knew nothing about. The video hands-on was a bit of a mess!!
This time I had 3 hours, an owner and a decent video camera for you!
Note: The street price in Europe is as low as €520 now (inclusive near 20% private sales tax) which is €180 less than the MRRP.
First-impressions were excellent. This is a class-leading Android 2.3 device with convergence, productivity and mobility at its heart, great battery life, a good camera, quality screen and, in my opinion, a good price. The Ice on the cake is of course the news that it will get Ice Cream Sandwich in 2012 (Q1) that will bring out the best of the dual-core CPU and add some key features that, by now, quite a few people will be missing in Android 2.3
Unfortunately, for the Honeycomb-experienced, version 2.3 of Android makes it appear a little dated and the speed isn't what I would have expected with my 1yr old Galaxy Tab not far behind in the browsing tests we did but I suppose we shouldn't really be comparing against a 7 inch device because if you want convergence at 5 inch this is probably the best choice on the market.
I have a personal problem with convergent devices in that, especially when they are this fast, you tend to use them too much and find yourself struggling with 15% or less battery life in the final part of the day. Forget to charge it overnight and you've lost your phone and tablet for the morning hours. But that's just me.
I had a very long chat with the owner, Nils (@thunderstrom99 on Twitter) and took a lot of notes. Firstly I want to tell you about the screen. It uses a PenTile Matrix screen which screen afficionados will know as a sub-optimal technology. OK, when you take a macro picture and zoom-in, you can see the effect…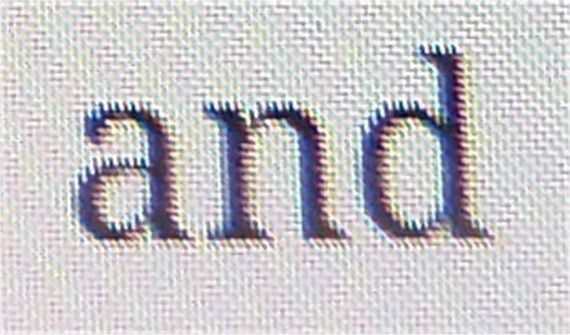 The sub-pixel smoothing (and anti-aliasing I guess) results in some harsh jaggies. Here's the Galaxy Tab…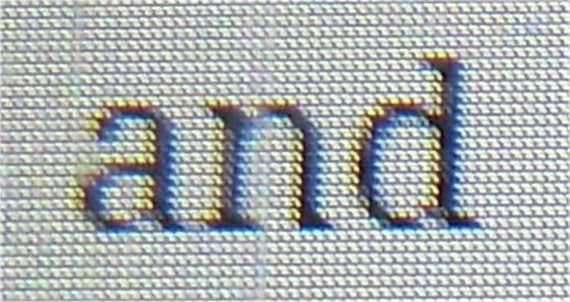 Less jaggies.
But it's a non-issue for most people because those two images are blown-up to the same size. In reality, the Note has a higher pixel density and you simply can't see this effect unless you're tuned-in with near-perfect vision. As someone that can detect out-of-phase stereo speakers by ear, yes, I know there are some people out there that will have a major issue with this but the reality for most people, including myself, is more like this:
Click the image to see the original. On the right is, to my eye, a better reading experience. That's the Note. [The PenTile screen tends to have some strange hues when viewed off-center. See more images in the gallery]
Outdoors the brightness is nothing to write home about but the viewing angles and glass clarity are better than my Galaxy Tab. It's good enough.
One thing I instantly noticed was the ability to use the device one-handed. It's not perfect – a little unstable reaching over for the menu button or top left (for right-handers) but it's possible to, carefully, do most things. I didn't try swype but I suspect it would work OK with the thumb an important mobility advantage over tablets.
I took a fairly detailed look at the battery graph and asked Nils what he was getting in terms of real-world usage. It looks like a full 8hrs heavy use is possible which would equate to a standard days use of 10-15 hours in my opinion. As a phone, it's not ideal. As a tablet, not bad at all. You have to decide how that fits your usage scenario.
On to performance. Android 2.3 isn't going to return the best dual-core performance figures and a Sunspider test result of 3238 (Galaxy Tab with 2.3.5 = 7450) isn't as good as I'd expect. A real-world browsing test showed a slight speed improvement over the Galaxy Tab but nothing really significant. You'll see it in the video below.
One point of note here though is that the Note is quite capable of some heavy multitasking and loading without it impacting the fluidity of the experience. 1GB of RAM and faster CPU cores mean there's more overhead.
It's interesting to know how Nils is using the Note. I've been in contact with him for about a year after he made enquiries about a UMPC. It turns out that the Note is satisfying all his requirements and he's got no desire for a ultra mobile PC now. In some situations, he's doing more on his Galaxy Note than he would be on a UMPC. He's using it at University for note-taking in an interesting way. He says he cant 'write' notes about his physics lectures because it makes more sense to take a picture and annotate it. He showed me a few graphs and diagrams on a whiteboard. Yup, that makes sense!
A chat with a a Galaxy Note owner
I took the chance to record 10 minutes of Q&A with Nils. Here's the result….
Keyboard
Is the on-screen keyboard good? Yes. We did a little speed test between the Galaxy Tab and the Galaxy Note. We swapped devices and did the same test. We were better on our own keyboards but the difference was minimal indicating that the Note could be used for some portrait-mode typing. For a bigger typing experience, obviously the Note can be held in landscape mose and still used successfully. That's something you can't do on a 7 incher although you'll lose masses of screen real-estate in the mode. As the Note is only 180gm, it's almost unnoticeable in portrait mode too.
The Pen, Annotations and Handwriting Recognition
You'll see the pen being used for annotation and handwriting input in the video below. Although I don't think it has the level of pen integration that the HTC Flyer has, because the pen is stowed, it's probably more useful. Annotating an image or screenshot is easy and fun. I'm sure you can add 'send to PDF' via a third party app or share. See the video below though for more on the pen, touch, multitouch and gestures. I think you'll like it.
A few other notes
Sound quality: OK
Gestures for mute and screenshot: Useful
Minute amounts of color banding noticed in a video: Potentially annoying for video purists
Plastic back Feels cheap but it's grippy
Photography Fast, good touch-focus and quality is acceptable. [Sample photo + Exif here.]
MHL port for MicroUSB cable provides charging and HDMI out. Excellent choice. HDMI cable is about €12 apparently.
Swipe across top to brighten/dim the backlight
Video
Summary
What an excellent bit of kit the Samsung Galaxy Note is and it's the best converged phone/mid/tablet that I've ever tested. When Ice Cream Sandwich comes along, it gets even better! I wasn't a big fan of converged phone/tablet products before this hands-on with the Samsung Galaxy Note and although I still think it's risky (and battery-draining) to put all your eggs in one basket, I'd certainly be happy to take a Galaxy Note and to hand over my Nokia N8 and Galaxy Tab. I'd miss the N8's camera for sure and wouldn't find the Note as comfortable to type on, but I think I'd get over it, especially as I'd be getting a phone and a tablet for around €520
The model tested here is the Samsung GT-N7000
Full specifications in the database along with links to other reviews, articles and our full Gallery.