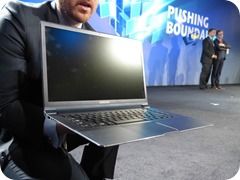 I can't say anything more than is in the title. The Samsung Series 9 2013 Ultrabooks will get a Full HD, 1920×1080 screen soon.
That's all the detail we heard from the live stream of the Samsung CES press conference this evening. We hope to bring you some hands-on from our good friends on the floor at CES in Las Vegas during the week.
Meanwhile, what do you think of the new Samsung Series 7 Ultra?