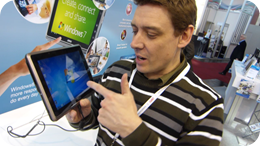 As I tool a look at the MSI booth at CeBIT yesterday I couldn't stop myself from getting a little hands-on with the Windpad 110W. AMD Fusion-based and equiped with a nice optical mouse pointer and full SD card slot it's a tablet design that could rally benefit from the next-gen OS and platforms.
The MSI rep nods and smiles and I talk about 1366×768 and Windows 8, as we discuss the reason for having a mouse pointer in a 1KG tablet and how Windows 8 + Clover Trail W with a fast SSD could really bring usable low-cost productive tablets to end-users.
MSI won't say anything about new products but they're clearly thinking about this. In tact, I got the impression that they're more interested in Windows tablets than in Ultrabooks which they tell me are not going to be broguth to the market until they have taken a longer term look at the Ultrabook market.
It's a blast from 2011 to play with the Windpad again but I think that we're going to see more of this later this year. Tablets, convertibles and, my favorite, the detachable Atom-powered Win8/Android screen and Intel Core-driven keyboard base station, all in under 1.5KG!