Android L, ART and Chromebooks. If you use Windows products, these Google products might make you sit up and take notice soon because Google have just announced important enhancements that connect the Chromebook and Android world.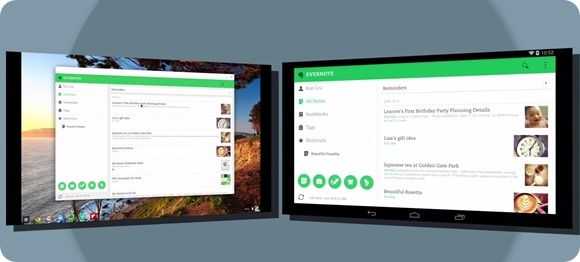 There was plenty of news from Google IO's keynote yesterday and the big news was Android L, the codename for the next generation of Android. A developer preview is available now and when it launches for customers it will include changes that enhance the experience for users and, more importantly, increase investment in professional app development for this space. It could draw developer resources away from the Windows Store just as things were getting interesting there.
Android L details are still emerging but thanks to the keynote yesterday we now know that a new user interface layer called Material Design, new security features based on Samsung Knox and ART, the new Android runtime that replaces Dalvic will be included.
ART improves on Dalvic by pre-compiling code at install-time rather than during runtime which speeds-up the startup of apps and improves performance and battery life by reducing runtime CPU usage. There's a useful intro to ART here which proves it's being developed for i86 Android too. We assume those 2-in-1 runtime developers like Bluestacks and Console OS are also going to migrate to this model. More importantly it looks like Google are going to develop ART for Chromebooks meaning you'll be able to run Android apps on a Chromebook.
Don't expect Android apps to run on Chromebook immediately or without porting work; The wording of the announcement that Android apps are coming to Chromebook left a lot of questions . "This is a difficult challenge technically" says Google.
It's likely that ART is being developed with ChromeOS in mind but that the hardware extraction layer needs to be refined on that platform before apps can be used. Security, user sessions and graphics capability is vastly different on a Chromebook. There's a mouse and keyboard too which means may have to be ported or even submitted to another store before they can run on the Chromebook.
"Our goal is to bring your favorite Android applications in a thoughtful manner to Chromebooks."
In a demo we saw Evernote running on a smartphone and then in a window on a Chromebook. "We have ported that Android application…" says Google indicating that yes, apps will need to be changed for Chromebooks. Vine was also demonstrated.
Like Windows Phone and Windows 8 there's going to be a close connection and cross-pollination of apps between Android phone and Chromebook which means developers may put more resources into the bigger screen and embrace more expensive application projects. Now that Drive, Slides and Sheets support Microsoft Office docs natively there's a more difficult choice for Windows users. Being able to run native apps with local data storage on the Chromebook also changes they way we should look at these devices and knowing that they offer some of the highest processing power per dollar in the market today means the Windows-based offerings will have to step up the game. The potential here is absolutely game-changing for Microsoft.
Related: Microsoft just released an Android handset under the Nokia brand with Microsoft service layers.
Let's move on to screen mirroring. It was announced as a new capability for Chromecast and it also has a Trojan-horse element.
It's useful to be able to use Miracast on a PC for wireless screen mirroring and audio transmission but the adaptors are expensive or no-name products. Android 4.4 already includes Miracast so it makes sense that the newly announced Chromecast screen mirroring feature is based on Miracast and it means Windows PC users (at least users with recent products) potentially get a $35 Miracast option – with Android inside.  There's still a question mark over what Chromecast screen mirroring really is so we look forward to more details on this. If it's true, Windows users may be buying Android without realizing it and that build could evolve into Android TV.
Let's assume you're using Windows on a PC, but you buy a Chromebook because, well, it's a powerful and cheap way to use the Web and your 4-year old Windows laptop is just old, slow and very boring. Then you pick up a Chromecast which just happens to be the next model with Android TV inside. We're speculating here but if that's the case you've just got yourself into a situation where you're getting into Android apps on the TV that can be run on the Chromebook. You're fully into the Google ecosystem for just $235, without an Android phone.  What's the next step? An Android phone and tablet?
Be excited about what's happening here but be aware of the timescales that could go way into 2015 before we get a choice of integrated products. It could take even longer than that before Chromebooks get any major selection of Android / ART apps. When it happens though it will bring important enhancements across all Android-based products. The application ecosystem could get even more investment and the Chromebook could get native apps. If you're prepared to commit to the Google way of life you've got an exciting choice coming up. That Windows / Android dual-OS option is looking more and more important.